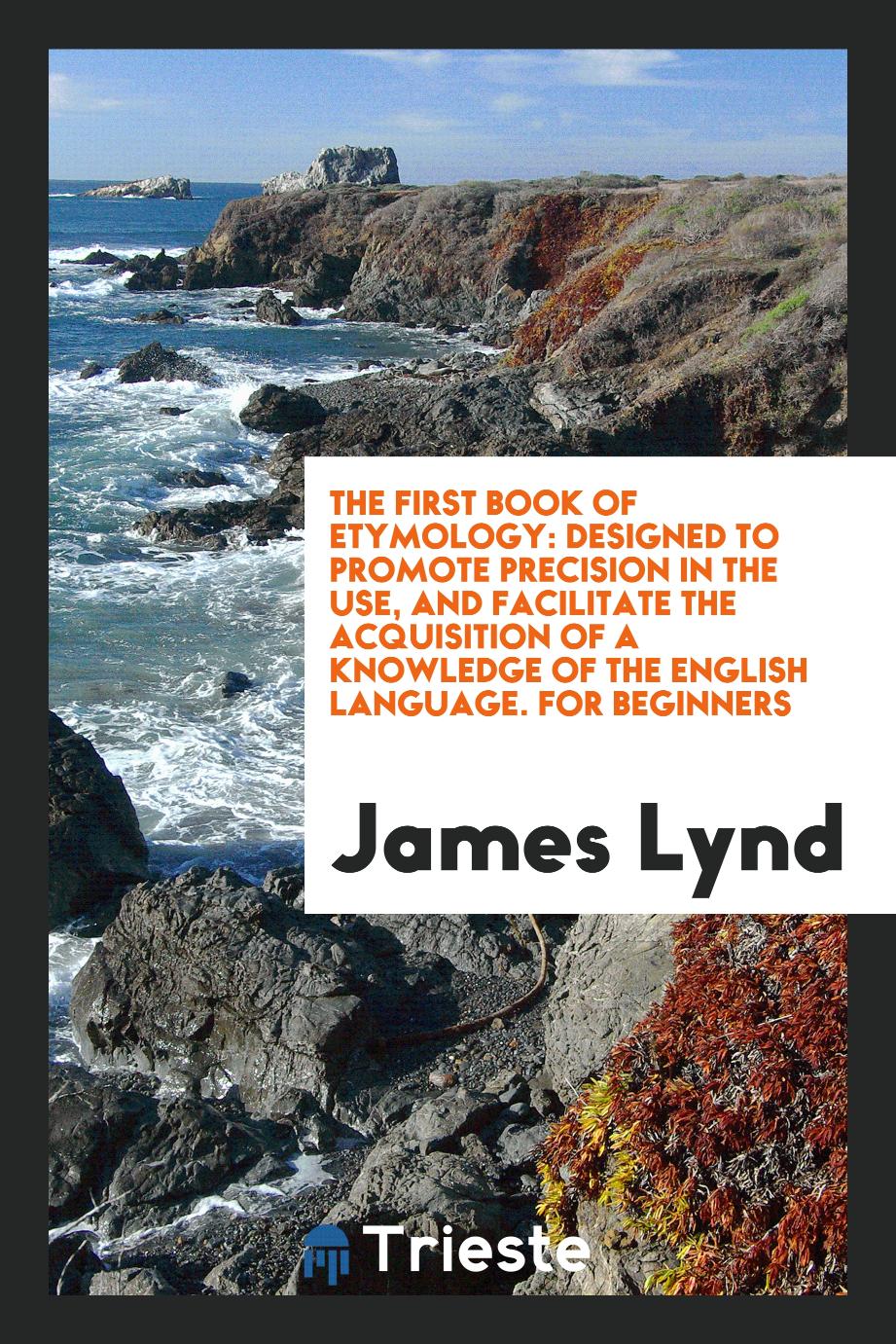 Paperback: 224
Publisher: Trieste Publishing
Language: English
ISBN: 9780649583324
Product Dimensions: 6.14 x 9.21 inches
The First Book of Etymology: Designed to Promote Precision in the Use, and Facilitate the Acquisition of a Knowledge of the English Language. For Beginners
Quantity
Book description
This volume is the first in a series of books intended for students of etymology. The first book of etymology is intended for those who are just getting started. In the preliminary material, the compiler tried to give the student a complete understanding of the difference between primitive and derivatives, simple and complex words, as well as to explain the nature of prefixes and suffixes, the changes that they undergo when connected to the root. The student should be required to study this part of the work carefully before being allowed to continue. The meaning of prefixes and suffixes, familiarity with which is necessary for successful study of etymology, is fully illustrated in Part 1. It is believed that the exercises contained in this part of the work are well-designed to permanently fix the content contained in them in the student's memory. Part 2 includes the basic Latin and French roots, arranged in alphabetical order, with simpler words derived from them defined and placed under their respective roots. Part 3 deals with Greek roots and their derivatives, defined and located in the same way as the roots of part 2. Thus, it was considered correct to separate the Greek language from other roots, because the words derived from them are in no way familiar to the young student and in their combinations with prefixes and suffixes, as well as in the formation of compound words: they are much more difficult than words, included in Part 2. Having mastered Part 2, the student is expected to become so familiar with the study that he can move on to Part 3 with relative ease. It is believed that a table showing the changes that Latin words have undergone in the transition to French will not be inappropriate for those who can use the book. This part of the work is not meant to be memorized by the student; but he may usefully refer to it as he progresses through Part 2. The key, which is a feature of this series of etymology textbooks, is safe to say, will be a valuable aid for both educators and those studying etymology. In the hope that this small volume may be useful to those for whom it is intended, the compiler submits it to the teachers for review.
Customer Reviews
Review by Guest
Posted on 17.02.2021
---
Review by Guest
Posted on 17.12.2020
---
Review by Guest
Posted on 31.08.2020
---
Review by Guest
Posted on 16.06.2020
---
Review by Dale Matthews
Posted on 27.04.2020
Yup, I'm going to read this book!
---
Review by Guest
Posted on 16.03.2020
---
Review by Guest
Posted on 10.09.2019
---
Review by Guest
Posted on 06.06.2019
---
Review by Guest
Posted on 27.11.2018
---
Review by Guest
Posted on 24.07.2018
---
Write Your Own Review
You're reviewing: The First Book of Etymology: Designed to Promote Precision in the Use, and Facilitate the Acquisition of a Knowledge of the English Language. For Beginners